Tap and pay confidently with Visa
Use your contactless credit or debit card, payment-enabled mobile phone or wearable device to pay quickly and easily.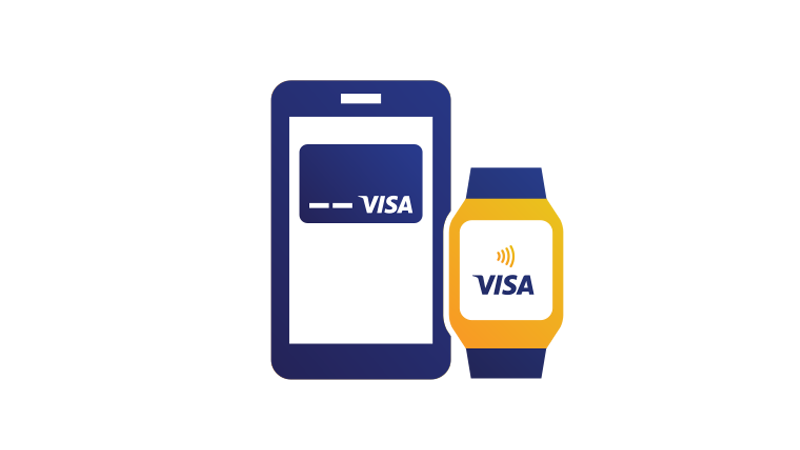 Convenient
All the benefits of Visa, on your mobile phone or device.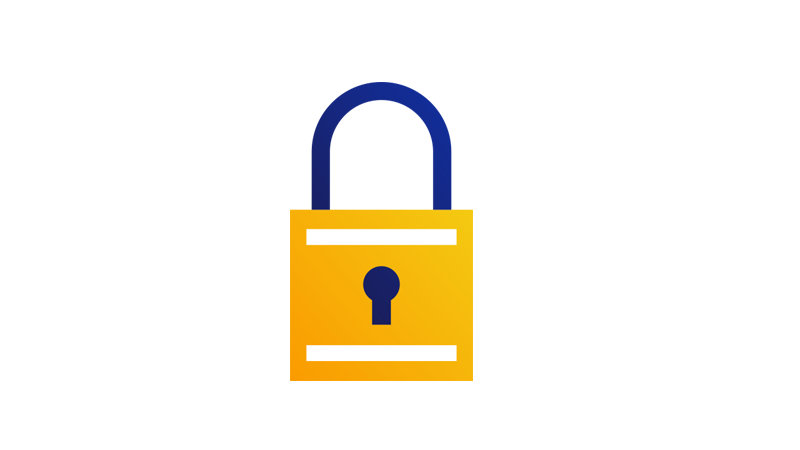 Secure
Your transactions are always backed by the security of Visa. When you use Visa on most digital devices, Visa Token Service protects your information with a unique digital identifier - a "token".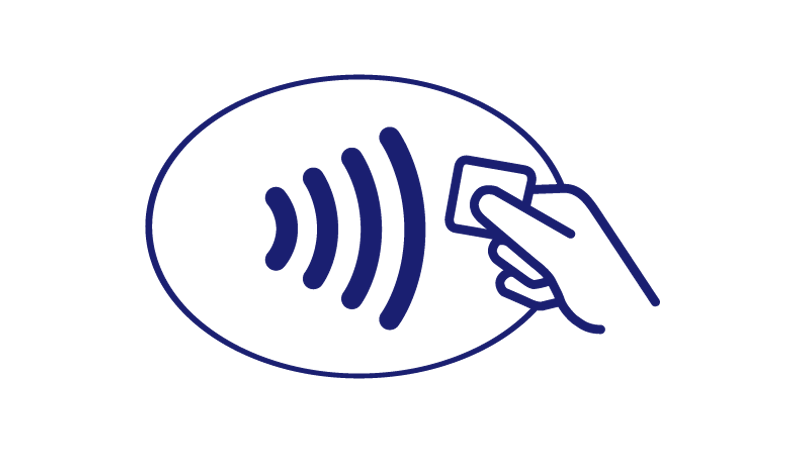 Accepted
Look for the Contactless Symbol at checkout.
Where can I pay with contactless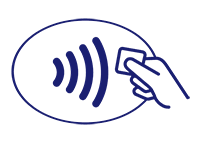 You can tap to pay with your contactless Visa card or payment-enabled device where you see the Contactless Symbol
. Start experiencing the speed, simplicity, and security of contactless payments today at merchants that accept contactless payments, including fast food restaurants, grocery stores, pharmacies, and more.
*The Contactless Symbol and Contactless Indicator are trademarks owned by and used with permission of EMVCo, LLC

How to pay with your mobile phone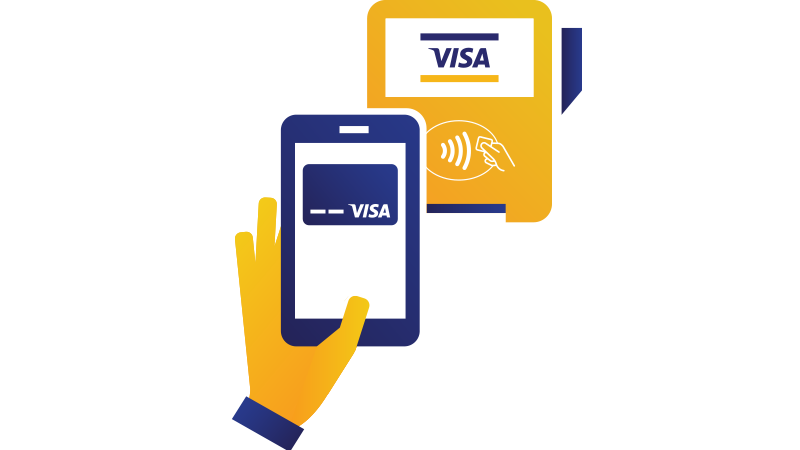 Add your Visa card to your payment-enabled mobile phone or device

Look for the Contactless Symbol on the terminal at checkout
Hold your phone or device over the symbol to pay

The financial institution that issued your Visa credit or debit card must be participating to add it to a payment-enabled phone or device.

Is my card number stored with my phone company?
No. When you enrol your Visa card for payments on your mobile, your payment card information is substituted by Visa and bank with a virtual account number, securely stored on your device.
Does my phone company or service provider know how I'm using my money?
Personal transaction information that can be tied back to you is not passed to third party providers.
Visa tokenised technology makes sure only your bank knows what and where you spend.
Does my bank cover fraud, like it does with my physical cards?
When you use a device for contactless payments, you enjoy the same protection as when you pay with your credit or debit card. If you detect any fraudulent transactions, just contact your bank immediately.
Does my phone need to be unlocked?
It'll depend on your device - on most, you can access Visa on your mobile just by holding your phone near the terminal and enabling payment through biometrics. For some, you'll need to unlock to pay.
Head to 'It's Easy' to find out more.
What happens if I lose my phone?
If you lose your phone, just contact your bank who will arrange for all transactions to be blocked from your Visa as quickly as possible.
Can someone bump against my device and steal my money?
No. Your PIN, and on many devices, biometrics – like your Face ID or Touch ID – provide an extra layer of security to mobile payments. This means no one can use your phone to pay if you lose it, or bump against your phone to use your money.
What's the spend limit when I use Visa on my phone? Do I need a pin?
The same limits that apply for your Visa card will apply when using your mobile.
You may be prompted to enter a PIN for transactions above NZ$80, however as new payment technology is introduced, biometric methods like your fingerprint and face scan will secure all transactions.
Does it work in a phone case?
Visa on your mobile will work in any phone case, as long as it doesn't inhibit your phone's NFC capability. A standard phone case shouldn't cause any issues.
Does it cost me anything to use Visa on my mobile?
There are no extra fees charged to use Visa on your mobile - it's just like using your plastic card.
Do I earn rewards?
You'll earn the same rewards when using Visa on your phone as you would your plastic card.
How does it work with multiple cards?
You can add multiple Visa cards to your mobile wallet - simply swipe across your wallet to choose the card you want to use.
What happens if I need a refund?
To get your money back for a purchase made using Visa on your mobile, just use your phone or plastic card to receive your refund. You may be required to enter your PIN.
Can I get cash out?
If you're at a cardless ATM owned by your bank, you can use your Visa debit on your mobile to get cash out. For now if you're at a card-only ATM, or an ATM that's not owned by your bank, you'll still need your physical card to withdraw.
Can I send other people money?
Your Visa on your mobile works just like your card - so if you want to directly transfer money to other people, you'll need to use your banking app instead.
Where can I use Visa on my mobile?
You can use Visa on your mobile anywhere that accepts contactless payments (anywhere you can tap a card). Simply look for the Contactless Symbol on any point of sale terminal.
Do mobile payments work overseas?
You can use Visa on your mobile everywhere Visa contactless payments are accepted, including overseas. Just look for the contactless symbol wherever you are in the world.