Huynh Nhu leads Vietnam's first campaign in the FIFA Women's World Cup
80+ appearances for the Vietnamese national team AND she's the first Vietnamese female footballer to join a European club.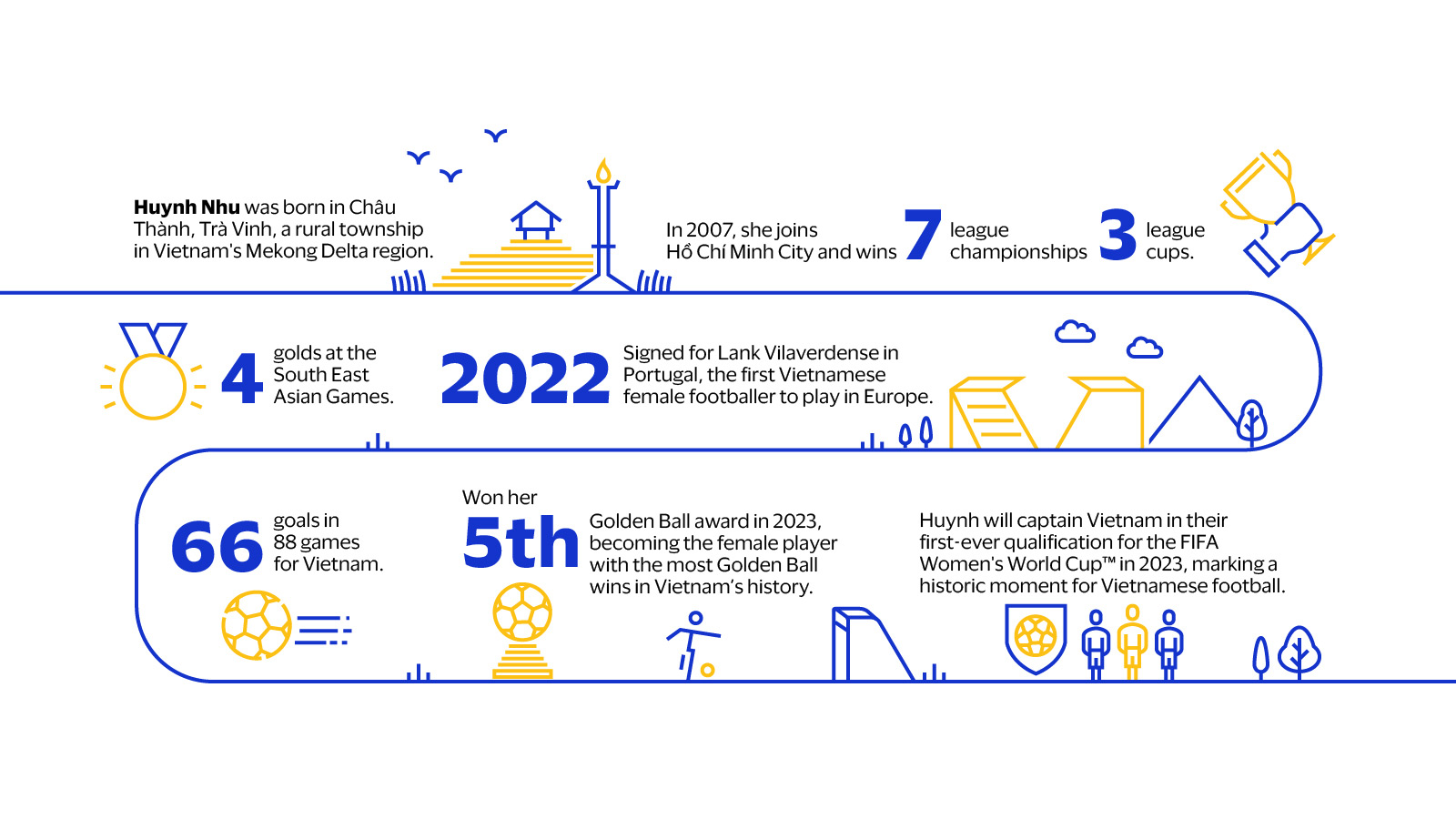 31-year-old Huynh Nhu is not only her country's top goal scorer but the most prolific scorer in Vietnamese football history.
She has won gold four times at the South East Asian (SEA) Games and once at the ASEAN Football Federation (AFF) Cup. On top of that, she's helped win seven Vietnam national league championships and three league cups at club level.
Those are some impressive numbers.
Hyunh was born in Châu Thành, Trà Vinh, a rural township in Vietnam's Mekong Delta region, south of Ho Chi Minh City.
Huynh's parents inspired her love of football from a young age, waking her up to watch the FIFA World Cup™ with their friends. According to her mother, when she was three years old, Huynh's favourite toy was a ball. When she got older, she would ask the local boys to play with her.
In the fifth grade she competed in a football event in the district of Chau Thanh as the only girl, outshining all the boys.
Professional career
Starting her career playing for her local club side, Huynh left home at 16 to train with Ho Chi Min City, making her debut in 2007. She would end up playing with the team for almost 15 seasons, winning the domestic league championship five times. She managed 45 goals in 52 appearances with the team.
Ho Chi Minh City dominated the semi-professional National League and Huynh was highly instrumental in that, as a four-time top scorer and four-time best of the tournament in the Vietnamese Women's Championship.
Every season between 2015 and 2021, Huynh finished in the top three of Vietnam's female player rankings. She won her fifth Golden Ball award in 2023, becoming the female player with the most Golden Ball wins in Vietnam's history.
Huynh has also made 80+ appearances for the Vietnamese national team, having so far scored 66 goals in her 71 appearances. That makes her the national player with the most goals and the highest scorer in the history of the national team.
The dream of playing abroad
In 2022 Huynh made history when she signed a two-year contract with Portugal's Lank Vilaverdense FC. She became the first ever Vietnamese female footballer to play abroad in Europe, breaking down barriers for other female players.
In her first 16 matches as forward she scored six goals and assisted others to score two more. That means she is close to the total goals scored by all Vietnamese male players outside Southeast Asia.
She told FIFA, "I hope that my image, as well as Vietnamese football, will thrive overseas and there will be more and more female players that can play football abroad."
There are only eight football teams in the Vietnamese Women's Football Championship and Huynh is the only female footballer from Tra Vinh Province in the national team. She has said she would like to devote her life to football after she retires, including bringing women's football to her countryside home.
In the meantime, it's a historic time ahead for captain Huynh and Vietnamese football with the National Eleven qualifying for the FIFA Women's World Cup™ for the first time ever in 2023.
Visa proudly supports women footballers at the FIFA Women's World Cup 2023.