Kia ora to New Zealand's Claudia Bunge, an A-League champion with 20 caps for the national team
Inspired by a chance meeting with a Football Fern at 15, Claudia Bunge is now also a role model for her own fans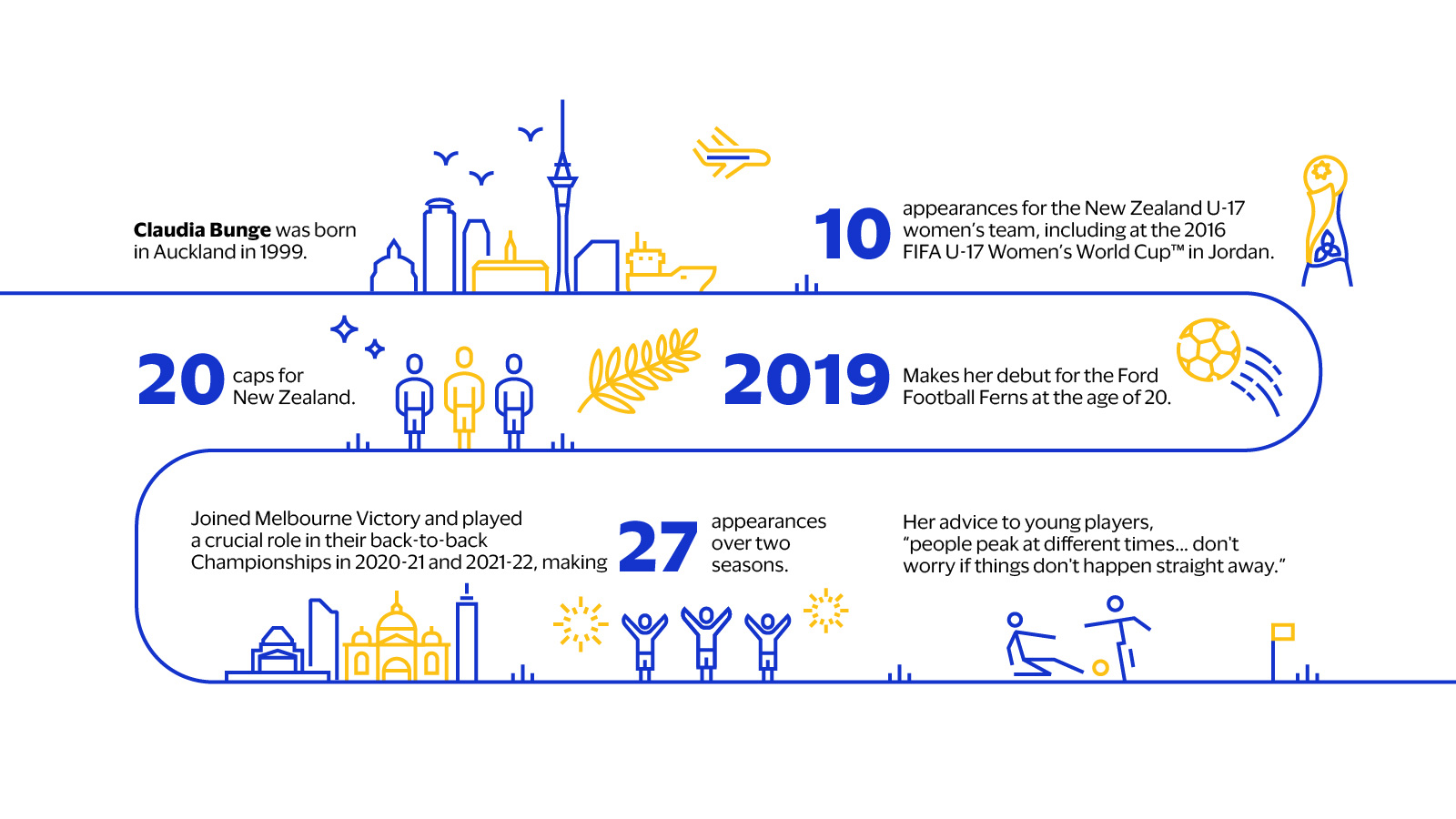 With her "ability to read play and manage dangerous moments throughout a match", Claudia Bunge is described by Melbourne Victory Director of Football, John Didulica, as one of the league's premier defenders.
A product of four cultures (New Zealand Māori and German on her dad's side, English and Australian on her mum's), she's now a two-time A-League Women's champion and has represented New Zealand at both age group and senior international level.
At 23, Claudia Bunge has cemented herself as a mainstay with Melbourne Victory and is a key player in the Ford Football Ferns defence. She's also somehow managing to study sports and exercise science part-time.
Born in Auckland in 1999, Bunge played five sports as a youngster: football, softball, tennis, volleyball and cricket, ignoring her mum's suggestion she take up netball.
Her first football club was Waitakere City FC, where she mostly had to play in boys' teams.
Her first taste of watching international football was when New Zealand hosted the Under-17 Women's World Cup™ in 2008.
By age 15 she chose to focus on football over her second-favourite sport, tennis, because she preferred the team dynamic. Around that time she also met a professional female footballer for the first time, former Football Ferns striker Rosie White[TL1] [NP2] . That helped seal the deal.
But to make the jump into women's football proper she had to move to the Glenfield Rovers (now known as Northern Rovers).
In 2016, Bunge had made 10 appearances on the New Zealand U-17 national team, contributing to their match win against Jordan at the 2016 FIFA U-17 Women's World Cup™. She debuted for the New Zealand U-20 team in 2018 and played at the FIFA U-20 Women's World Cup™ in France.
A middle-of-the-night epiphany
At home in New Zealand watching the FIFA Women's World Cup 2019TM, seeing girls she'd played with in the past, Bunge realised that playing for the Ford Football Ferns at a FIFA Women's World Cup was what she really wanted.
Not long after, she was called up to play for the national team, as they prepared for the Tokyo 2020 Olympic Games. "I was a bit nervous meeting them and I think if you ask any of the younger girls we were all a bit nervous because you're meeting your idols," Bunge told New Zealand Football.
She ended up debuting for the Ford Football Ferns in 2019 against China, when she was 20.
Her first major senior tournament for the Ferns was the Tokyo 2020 Olympics, played in 2021. The Olympics was a new kind of challenge.
Luckily by that stage the 20-year-old had moved to Melbourne to start her career in the top women's league. She says getting that first professional season under her belt before the Olympics "put me in good stead" for the tournament.
The player she's become
In her number three jersey, Bunge was crucial in Melbourne Victory's back-to-back Championships in 2020-21 (her first season with them), and 2021-22. She's made 27 appearances over two seasons and only missed regular season fixtures due to her international duties.
Looking back on her own career so far, her advice to up-and-coming players is, "people peak at different times… don't worry if things don't happen straight away."
With the FIFA Women's World Cup™ to be hosted in Australia and New Zealand, trans-Tasman Claudia Bunge should feel right at home.
Visa proudly supports women footballers at the FIFA Women's World Cup 2023.